Mare è Stagnu, a quiet walk in Aleria to the Genovese tower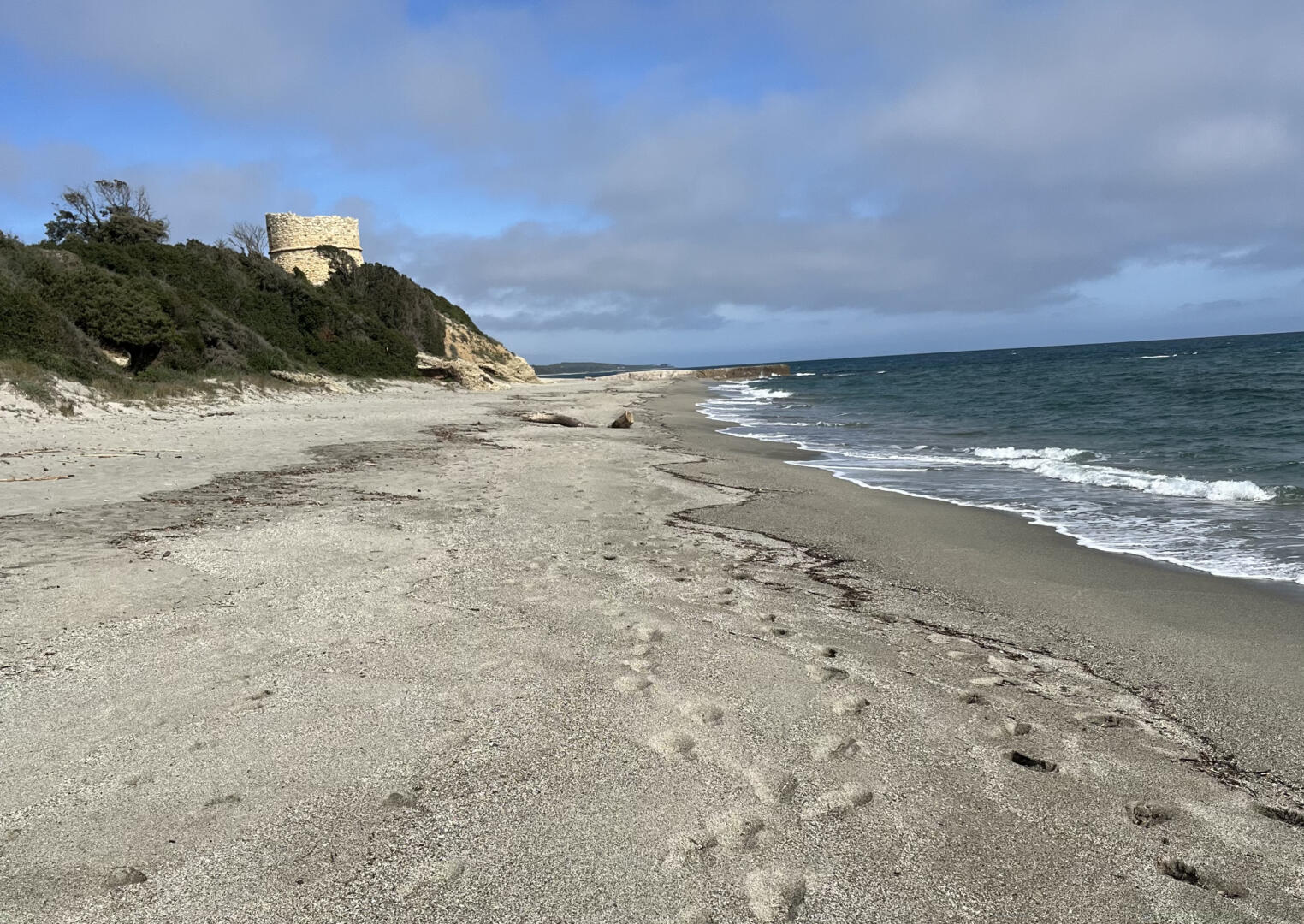 We stick to the eastern part of Corsica for today's post about the "Mare è Stagnu", a quiet walk in Aleria. I invite you to read our previous article about Eastern Corsica, which is in our opinion the right spot to enjoy discovery in a sustainable way. But let's get to the subject!
I wanted to talk about and show you some pictures of the Mare è Stagnu itinerary. I discovered the place a decade ago and get back there every year. During summer to enjoy the immensity of the beach around, reasonably frequented. Even though some people lack respect for nature and still let garbage on the sand, going to the beach there ensures the possibility of being quiet. I also have the habit of taking a walk there during winter.
The Mare è Stagnu in a few words
The path is straightforward to follow. It takes around 2'30 hours to complete on foot, but you can also try it on a bike or a horse. If you're going on foot, I suggest you follow the path closest to the sea. It's sandy but still more enjoyable than the main one which tends to become larger every year and looks like a road (a few cars are passing by, so be careful).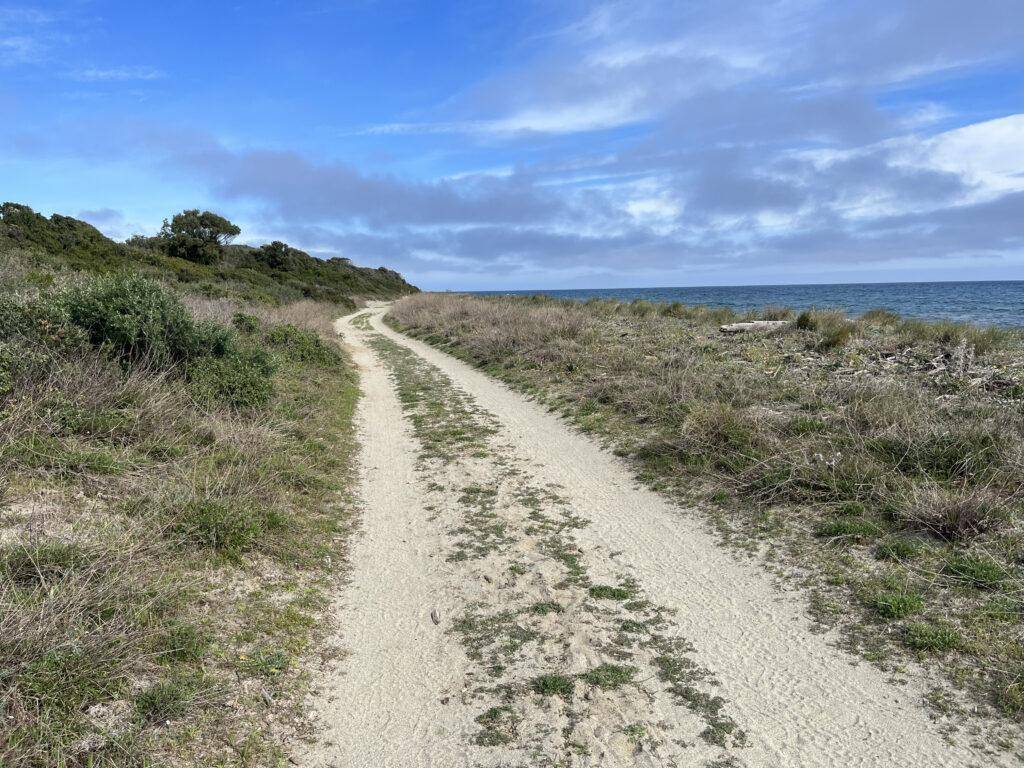 Beyond the interest of taking an easy walk, accessible to everybody, we have here the opportunity to reach the Genovese tower of Aleria. This piece of our history still stands proud, dominating the Thyrenean sea. And just above, we can admire the "Etang de Diana". Ever since Corsica was part of the Roman Empire, oyster culture has been the local specialty.
How to reach the Mare è Stagnu?
The starting point is easy to find. In Aleria, at the crossroad letting you follow the main road Bastia-Bonifacio or the one leading to Corte, simply take the eastern option leading to the sea. If you're getting there on foot or with your bike you can enjoy the presence of a bike path.
Just follow this straight road and take left when arriving nearly at the end (you will see the warehouse of a winery on your left). Keep going left for a couple of minutes, along vines, to find a (sort of) parking lot. Approaching the sea from there, you will come across this sign: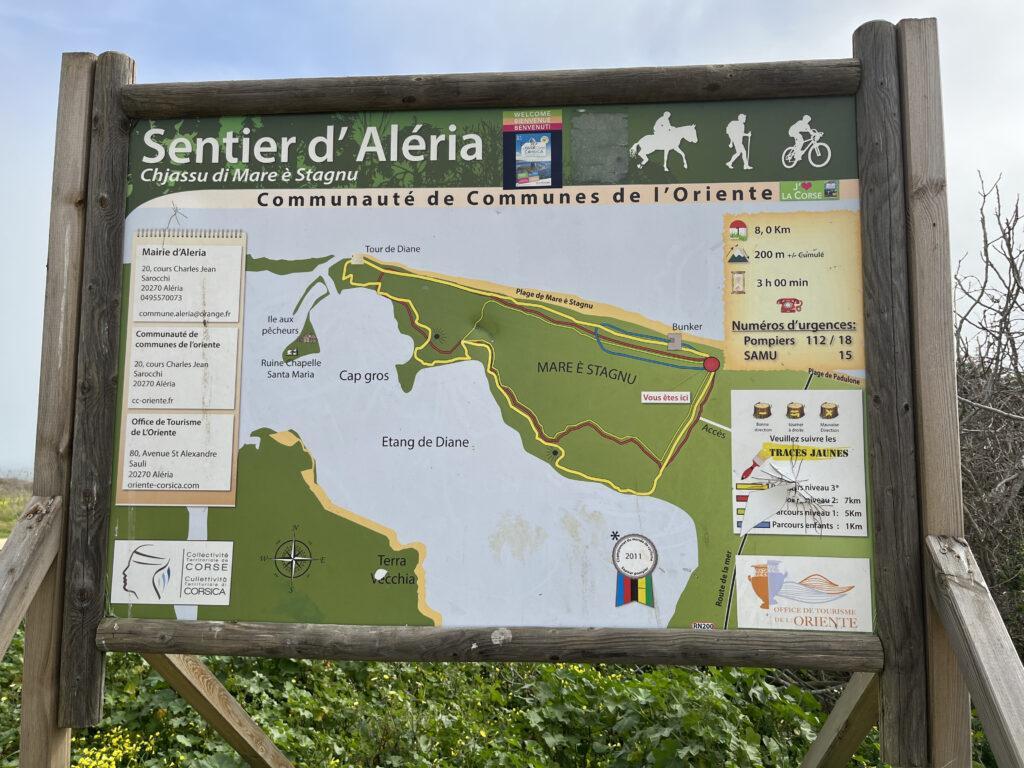 From here, you are ready to go!
You can get more information by contacting the local tourism office, here.
Images from our walk in Aleria (March 2023)