Sustainable accommodation in Corsica with "The Rispettu Project"
There is a lot to do in Corsica if our island wants to become a real sustainable destination for all travelers. Some projects are on the way and are emerging sometimes from public instances. Today's example is the "Rispettu Project" (ed: Rispettu means "Respect" as you may have guessed) launched by the Collectivité Territoriale de Corse in 2018.
The Rispettu Project: what is it?
The Rispettu Project aims at encouraging hotels, residences, campings and all types of accommodations into moving to a more conscious, aware, sustainable way of working. Corsica wants -and needs!- to become an "eco-friendly" destination. The Rispettu Project is here to advise and support companies who want to embrace sustainable tourism.
Companies who choose to follow the Rispettu Project will aim at :
Mastering water and energy consumption;
Promote local and organic supplies within the accommodation.
More easily said than done, you're right. To help those companies, the Rispettu Project has the support of public authorities. The ADEME Corsica, the Office of the Environment of Corsica, EDF, Kyrnolia, the CCI of Ajaccio and Southern Corsica. The University of Corsica is also involved throughout some of its students.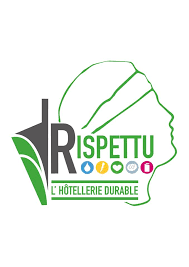 The SYVADEC (Mixed Syndicate for the Valorisation of the Waste of Corsica) also participates in this project. It provides a lot of tools for hotels and companies in their quest for making Corsica a better place. Here is how the official website (visit-corsica.com) introduces those tools :
The SYVADEC helps by :
supplying battery boxes, lightboxes, and composters;
setting up links with the communities concerned to make recycling equipment available;
responding to trainees on the issue of waste;
communicating to all SYVADEC members about the existence of the project and its results.
The Rispettu is a real true good step toward sustainable tourism in Corsica. For customers, in particular, it tends to go beyond a simple label. It provides data and various information about the environmental impact of their stay.
Find your accommodation
Those are the early days of The Rispettu Project. It means that only a very few of the hotels and residences throughout Corsica are truly following the concept.
You can find the full list of accommodations:
A brochure explaining the full project can be found on the official website. Unfortunately, it is only available in French (yes, there is still so much to do…). We agree, the list is very short and even though it does not mean that you can not find some places that are truly sustainable without the need of a label (I urge you to take a look at this for your accommodations in Nothern Corsica). But every step toward ecotourism in Corsica is a good move.
You can be sure we will look after the evolution of The Rispettu Project to provide you with more details and advice in the coming months.
Stay tuned!